By: Dr. Zach Daniels PT, DPT, Cert. DN
With the average age of the population increasing and the continuation of advancements in medicine, the need for a joint replacement is becoming a more common life event. On average, 1 out of 4 adults will need some form of joint replacement in their life. The major joints that are often replaced include the knee (most common), hip and shoulder. This article will focus on the correct time to get a knee replacement, the surgical intervention involved, and the physical therapy to follow which is crucial to maximizing outcomes.
So how do you and your doctors know when it is the right time to have a total knee replacement surgery? Osteoarthritis, defined as the degeneration of joint cartilage, is the most common cause of severe knee pain and "crunching" sensation. Breakdown of cartilage is often caused by increasing age but can be accelerated with a knee injury sustained earlier in life or professions with high impact demands. With the use of imaging techniques, most often an x-ray, a surgeon will determine the degree of severity of the degeneration which will indicate the potential for success with surgery. The imaging results in conjunction with the patient's degree of pain, functional ability, and prior failed interventions will allow both parties to pursue an elective total knee replacement surgery.
The surgery itself, although invasive, is becoming ever so routine for many surgeons and facilities, with continued successful outcomes. The procedure involves the complete replacement of the bottom of the femur bone (thigh) and the top of the tibial bone (shin). Bone surfaces where cartilage was once deteriorating is replaced with titanium prosthetic pieces that are often secured by bone cement. This cement allows for the rapid sturdiness of the knee joint, ensuring for faster mobility following surgery. Often the surgery is completed in under two hours and with advances in technology, some surgeons elect to release the patient the day of surgery if medically appropriate.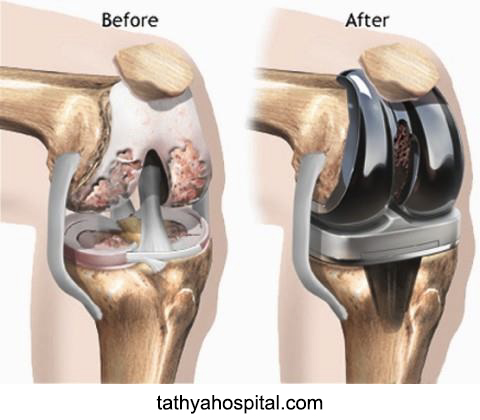 Great, the surgery is complete, but this is still just the beginning of the recovery process. Within 24 hours following surgery, the patient can expect to begin physical therapy. This phase of recovery is often dreaded by patients because the anesthesia has worn off, and quite honestly requires some discomfort. This discomfort is necessary to maximize outcomes of the surgery and reduce the risk of joint contracture (frozen joint) or blood clot formation. The key is to find a physical therapist you can trust and can develop a dialogue with to adapt to your personal concerns or pain tolerance. Every patient is unique and takes a different amount of time to heal. Therefore, an individualized plan to help them achieve those goals is necessary. A rehabilitation plan will include increasing knee range of motion, strength, scar tissue mobility and reducing pain/ swelling. These interventions will allow the patient to do simple tasks like stand up from a chair, walk and climb stairs without pain. The average length a patient can expect to be in physical therapy is 6-8 weeks.
Whether you have had a surgery recently, have one scheduled or are just thinking about it, please feel free to reach out to us with any questions or concerns. Every patient that walks through the door at Professional Rehabilitation Services is treated as a unique case and we will work as hard as we can to resolve the pain or impairment using the most evidence-based practice techniques.
Call any of our clinics for more information or visit our website where you can learn more about the company and even download a referral form for you physician to fill out. You can also call and schedule a free 15 minute consultation!