By Karl Ehlers, PT, DPT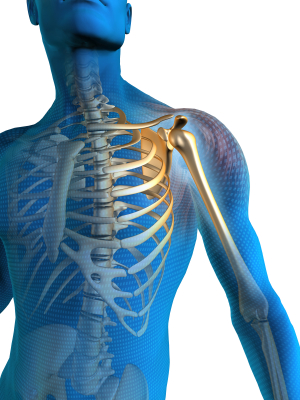 Fall is coming and that means leaves will need to be raked, indoor home projects that have waited all summer are ready to get started, and that big heavy turkey will need to be lifted and put in the oven. When performing these tasks or any other fall activities, you may experience a "pinch" or "twinge" in the shoulder that will stop you in your tracks or just continue to annoy you throughout the holiday season. If this sounds familiar, you may be experiencing shoulder impingement syndrome and our highly experienced Physical Therapists can help you today.
The shoulder is a complex area of the body with a variety of structures including bones, muscles, ligaments, bursas, nerves, and blood vessels that share a common space. These structures can become irritated with repetitive actions, a quick "jerking" motion, or when trying to lift something that may be a little too heavy. The most common structures involved with shoulder impingement syndrome are the tendons of the rotator cuff and the bursas located throughout the shoulder which become pinched between the humerus/ upper arm bone and the acromion/ "roof" of the shoulder which is part of the shoulder blade. The rotator cuff is a series of muscles that originate on the scapula/ shoulder blade and wrap around to connect onto the humerus/ upper arm bone. The rotator cuff muscles help with raising and rotating the arm and also work to stabilize the shoulder during overhead reaching and lifting tasks. The bursas throughout the shoulder are fluid filled sacs that protect and pad the tendons from the hard surfaces of the bones. These tendons and bursas can become inflamed which limits the amount of space within the shoulder and does not allow the smooth sliding and gliding arm movements to occur and this is when the pinching sensation happens.
Due to the nature of this condition, the irritated structures can cause us to modify our posture and positioning which leads to difficulty sleeping, pain when reaching overhead or behind our backs when dressing or bathing, and pain when lifting household objects. The diagnosis of shoulder impingement syndrome may disguise itself by causing pain in different areas of your upper body including your neck and upper arm and can even lead to other impairments including a rotator cuff tear. This is where the Orthopedic Manual Physical Therapists of Professional Rehabilitation Services can help with a thorough examination for the cause of your symptoms followed by a series of treatments to decrease your pain and improve your ability to perform everyday tasks. We do not take any "cookie cutter" approaches as these treatments will be individually programmed based on the results of the examination and your symptom behavior/ presentation. These interventions include:
Manual Therapy Techniques: including joint mobilizations, soft tissue mobilization, specific stretching techniques, and dry needling to address the affected structures and improve the mobility of the shoulder joint and soft tissues as well as decrease pain,
Therapeutic Exercises: Progressive exercises to address any weakness discovered during the examination which are specifically tailored to your needs in order to get you back to performing everyday tasks or even your favorite recreational activities,
Modalities: Electrical stimulation, Phonophoresis, and ultrasound, among others, to address the inflammation and painful symptoms you're experiencing.
At Professional Rehabilitation Services we pride ourselves in distinction and providing a higher level of care. So if you or someone you know is having shoulder pain or another musculoskeletal problem and would like to know more about other physical therapy options, including dry needling, seek the consultation of a physical therapist at one of our six locations or see your physician for a referral to one of our facilities. Physical therapy is a regularly covered service by most health insurance plans. Free 15 minute consultations are a great way to identify if you are a candidate for treatment!
At Professional Rehabilitation Services, we treat a wide variety of musculoskeletal and neurological conditions using the latest in evidence based therapies provided by highly credentialed physical therapists. Professional Rehabilitation Services has six convenient locations in Pawleys Island, Murrells Inlet, Surfside Beach, Myrtle Beach, Conway, and Little River. For further information on this or other related topics you can contact Richard DeFalco, DPT, OCS, CSCS, CWcHP at Professional Rehabilitation Services (Myrtle Beach) (843) 839-1300, Brian P. Kinmartin PT, DPT, MTC, STC, OCS, CWcHP (Pawleys Island) (843) 235-0200, Richard A. Owens, MPT, OCS, Cert. SMT, CWcHP (Surfside) (843) 831-0163, Jill P. Phelan, PT, DPT (Conway) (843) 773-3031, Lisa O'Brien, PT, DPT (Murrells Inlet) (843) 314-3224, Karl Ehlers, PT, DPT (Little River) (843) 281- 4222 or visit our website at www.Prsrehabservices.com where you can learn more about the company and even download a referral form for your physician to fill out.You can also call and schedule a free 15 minute consultation!