By: Dr. Richard DeFalco, DPT, OCS, CSCS, CWcHP, Cert. DN
At Professional Rehabilitation Services one of the major tenants of our mission in an effort to provide the highest quality of physical therapy is to learn from those who never stop learning. In other words, surround yourself with those who continually challenge themselves to be amongst the highest trained practitioners, learn from them, and improve upon the delivery of care. Basically, we truly believe in the importance of continuing education to bring forth the latest treatment advances in the field of rehabilitation to better serve our patients. To that point, PRS is proud to offer Dry Needling as part of its cache of treatment interventions. The board certified orthopedic physical therapists of PRS have completed coursework in the administration of Dry Needling for Pain Management and musculoskeletal dysfunction.
To understand how dry needling can be an effective technique to reduce pain and promote healing of neuromusculoskeletal injuries we must first understand what happens when an injury is sustained. Injuries to tissues are caused by varying degrees of stress, ranging from repetitive overuse, to sudden high velocity traumatic forces that can ultimately result in surgical repair.
We have all been injured to some degree throughout our lives. When an injury is sustained, our soft tissues go through a healing process that starts with inflammation/swelling and ends with reconstruction of the injured tissue. It is during this healing process, where inflammation, contracture of tissues, formation of adhesions between neighboring tissues, and scar formation become the causes of chronic soft tissue dysfunction, trigger points, and persistent pain. These changes result in blockage of fluid into and out of an area, as well as a decrease in blood circulation, and an increase in pain due to a changing chemical environment.
The soft tissues that we are speaking of include muscles, tendons, ligaments, bursae, capsules, fascia, nerves, blood and lymphatic vessels. Injured tissues eventually become weakened and deformed due to a lack of nutrition, resulting in increased pain, disuse, and altered movement patterns.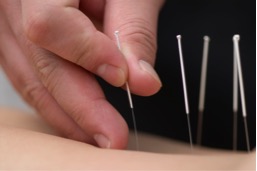 Dry needling is a process by which fine gauge solid filament needles are inserted into the symptomatic dysfunctional areas and to create tiny lesions in the underlying soft tissue. These lesions stimulate the body's natural response of healing by way of secretion of molecular proteins to the affected areas and stimulation of both the central and peripheral nervous system to create an anti-inflammatory reaction. Because the needles are of an extremely fine gauge, the procedure has minimal to no pain associated with it. Integrative Dry Needling is a modern western medical intervention that is not based on traditional philosophical Chinese medical acupuncture. Dry needling has its own theoretical concepts, terminology, needling technique, clinical application, and is primarily used to treat neuromusculoskeletal dysfunctions, versus acupuncture, which is directed at addressing whole body systems and energy channels. Dry needling is based on a thorough understanding of human anatomy and physiology combined with scientific research.
Dry needling is yet another method by which we can treat patients who may have otherwise had limited options to address their soft tissue injury and pain in the past. The key with any condition is selecting the right treatment, for the right patient, at the right time. Some of the conditions that we are treating successfully with dry needling are tendonitis, tendinosis, repetitive strain/overuse injuries, low back pain/sciatica, neck pain, TMJ, tennis elbow, knee/hip pain, peripheral neuropathy, plantar fasciitis, shoulder strains, TMJ dysfunction, and others.
At Professional Rehabilitation Services, we treat a wide variety of musculoskeletal conditions using the latest in evidence based therapies provided by highly credentialed physical therapists. In addition to being licensed physical therapists, our providers have additional specialty certifications and training in orthopedics, manual therapy, sports, strength and conditioning, vestibular treatment, and dry needling. For further information on this or other related topics you can contact Richard DeFalco, DPT, OCS, CSCS, CWcHP, Cert. DN at Professional Rehabilitation Services (Myrtle Beach) (843) 839-1300, Kristin Lies, DPT (Murrells Inlet) (843) 314-3224, Brian P. Kinmartin, PT, DPT, MTC, OCS, STC, CWcHP, Cert. DN (Pawleys Island) (843) 235-0200, or Richard A. Owens, PT, MS, OCS, Cert. SHT, CWcHP, Cert DN (Surfside) (843) 831-0163, or visit our website at www.prsrehabservices.com where you can learn more about the company and even download a referral form for you physician to fill out. Professional Rehabilitation Services has 5 convenient locations: Pawleys Island, Murrells Inlet, Surfside Beach, Myrtle Beach, and Conway. You can also call and schedule a free 15-minute consultation!